Chimney Brothers
Vicksburg Heavyweight:
The Chimney Brothers Play Willie Dixon
CD
€ 12
(Muze 32)
Februari 2008

Just before their break-up in July 2006, the Amsterdam based R&B-punk combo The Chimney Brothers went into the studio to record 10 songs by the legendary songwriter, bass-player, producer, arranger, singer, boxer and hustler Willie Dixon (1915-1992). Featuring tenor saxophonist Felix Roosenstein and various other guests, the Chimney Brothers give their personal interpretation of Dixon's material - ranging from surf to rockabilly to after hours jazz - making it as much a Chimney Brothers record as any other. The deluxe booklet-like CD is limited to only 200 numbered copies, so be quick to pick one up!
push to read: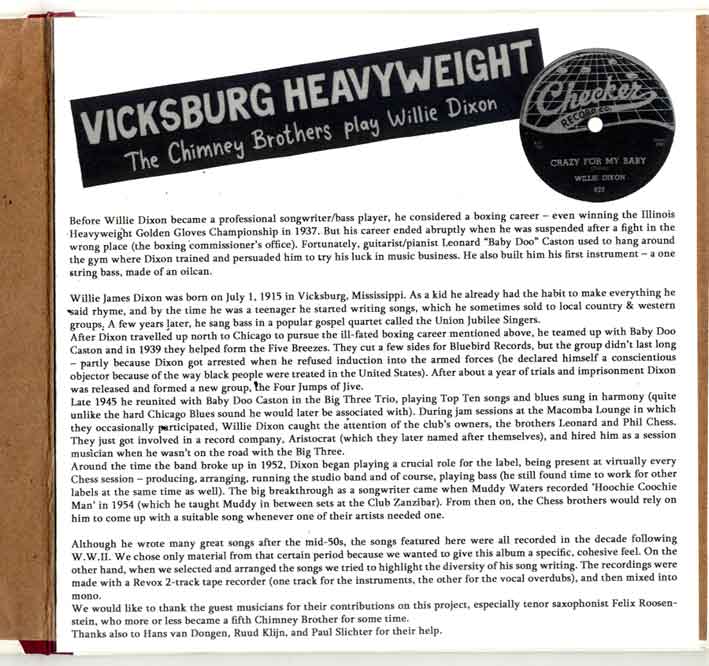 Tracklist:
01 : Crazy For My Baby


02 : When The Lights Go Out
03 : Mellow Down Easy
04 : Violent Love
05 : So Long
06 : Who
07 : I Got To Find My Baby


08 : 29 Ways
09 : This Pain
10 : Signifying Monkey

Arne Wolfswinkel - Guitar
Rik van den Bosch - Guitar, voice
Wei-Ti Wu – bass guitar, guitar on #3
Ruben Chatlein – drums

Special guests:
Felix Roosenstein – tenor sax
Gerrit Wolfswinkel – baritone sax on #9
Armand Giesbergen, Renzo Waasdorp – backing vocals on #2, 8 & 10

'Vicksburg Heavyweight: The Chimney Brothers Play Willie Dixon' was recorded, mixed and mastered on reel to reel in mono by Dirk Sloos at Muze Central in Eindhoven.

Website Chimney Brothers
http://www.chimneybrothers.nl/